Vacation Bible School Program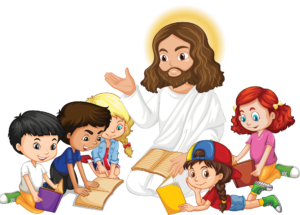 Our complete VBS program is super fun, charming, and inspirational!
Summary:
After attending their Sunday School class, Matthew and his sister Martha are discussing how wonderful it would've been to hang out with Jesus. All of a sudden, Jesus appears! At first, they are confused because they are talking to a 12-year-old boy in "Jesus clothes." Jesus tells them. "I was a kid once! Dad thought it would be more fun if I visited you from the time when I was 12!"
Mathew and Martha spend the day with Jesus watching him perform miracles and demonstrating the power of love. The music is fun, and the experience is inspiring. The lessons remind us that even though we may not see him, Jesus is always with us.
Included Materials:
Kids for Kids music tracks with vocals
Kids for Kids music tracks without vocals to play at musical performance
Kids for Kids music tracks in Spanish
Let's Celebrate Sheet Music (sheet music accompaniment to Kids for Kids music tracks)
All Walking With Jesus Musical materials (Walking With Jesus is a four lesson, 70-page workbook and musical program for children. This program is perfect for children to practice and perform at the end of a VBS or other event. It includes coloring pictures, bible verses, lyrics, discussion questions, creative writing and a script for the Walking with Jesus Musical with accompanying audio tracks. Songs in the musical are included in the sheet music and Kids for Kids music tracks.)
How The Kids For Kids Ministry Began
Sheet Music and VBS Workbook
"Watching the whole process of putting this album together was an amazing experience.  The songs are incredible and are just as meaningful now as they were when the children recorded them.  Thank you, Cynthia Jordan, for writing these sweet songs and including my family in this journey."
"Singing in the Let's Celebrate choir was an experience that fostered a love of music within me which gave me the confidence I needed to obtain a scholarship to college and lead worship in many churches across Texas. Singing with the Let's Celebrate Choir will forever be a moment in my history that added definition to who I am."
"Being a part of Kids for Kids Children's choir was a huge part of my life.  I got to spread God's love in many unique places, from East Texas festivals, to St. Jude's to burn survivors camp in California.  Having these songs to sing brought me peace during some of the hardest times of my life.  I pray these songs continue to bless people for years to come. It was an honor to be a part of this ministry."